| | | |
| --- | --- | --- |
| Here is a quick description of some of the routines in my show...Enjoy! | | |
| | |
| --- | --- |
| | Fire Eating A thrilling display of fire eating. This is not a sideshow gag. No tricks, no gimmicks. It is presented in a playful and sensual manner that builds to a finale where Maria holds a flaming torch in her teeth. An awesome sight and great opening act. |
Metamorphosis
Maria and her venom girls have made a small metal box the envy of every man by laying all over it. Maria ties up one of her assistants and locks her away. Maria climbs on top of the trunk, lifts a curtain and in a split second the assistant is in her place. The box is unlocked and out jumps Maria to our delight in a breathtaking new costume. But she is not alone. One of her pet Boa Constrictors is wrapped around her neck. The final touch on this masterpiece is Maria climbing in the box to join her assistant for "private girl talk". Shhhh....
A Kodak Moment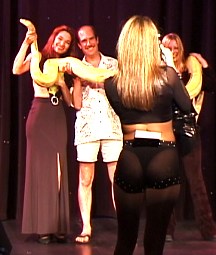 An audience member is invited to come up on stage and meet Maria's friend and have their picture taken. The small snake is safely draped around our guest and he gets his picture taken with the snake, and if he's nice, Maria will get in the shot too. But wait, there is something out of balance in the photo, there is more person than snake, so an even larger snake is brought out to complete the photo. This is a lighthearted situation that works every time. Pleasant and funny. A great way to make the company president or audience member a star.


They chat and she assures him that he too can do magic. All he needs to do is read the Cue cards with the instructions. All seems to go well up to the end when our new magician realizes that the card he had Maria pick and sign is not in the deck at all but he has been sitting on it the whole time.


Your Sitting On It

Maria finds a man from the audience that has dreamed of being a magician. She is about to make his dreams come true. (Of being a magician, that is!!) Realizing that it can be a bit scary on stage Maria has him sit down and relax.


Spike-Her

If the name of this illusion does not make you want to see the show we give up.

Carla squeezes into an empty cubical while Maria and Corinne close her inside. Then not one, not five, but ten spikes are used to penetrate the space. There is only enough room for either the spikes or Carla, not both. Should Maria remove the door? Will we see sexy Carla spiked? How will Maria fix this? That is Easy. For America's sexiest magician, Maria opens the door to show Carla has disappeared leaving the chrome spike to fill the cube. Doors are replaced, spikes are removed and instantly Carla re-appears.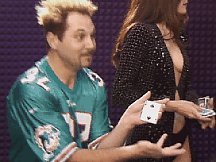 Ashes to A*****

Oh no not another pick a card trick! Relax. This is America's sexiest magician we are watching and when Maria does a card trick you will regret it if you miss it.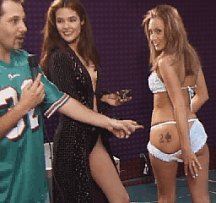 Here is how it works. Maria brings you up on stage to pick a card. You do as she requests in fear of her making you disappear and write your card on a napkin that Maria sets fire to. Stay with me here because you are not going to believe what you are about to see. Maria takes a handful of the ashes that were once your napkin and rubs them slowly on Carla's very exposed and very tight Butt Cheek. Yes, I said rubs it on her butt cheek. It leaves a stain on her awesome ass which is YOUR CARD! Now aren't you glad you picked a card! You then exit the stage to thank you's from the men in the audience.



This video clip was shot at KSEX radio.

This promo is from a live show
Cutting A Woman in Half

This is far from the old standard of sawing a woman in half. If the showroom isn't full this time, the next performance is sure to be by men hoping to be picked to assist in Maria's next illusion, featuring one of her beautiful assistant, handcuffs and a bath robe. With not much more on than when she gets done with a shower Maria's assistant is hand cuffed and foot shackled together by a 3-foot chain.
With no key to escape she is placed in a rectangular box about to be cut in half. But that's a trick you say. She has a key hidden on her and she uses it to elude the cutting blades. Not a chance, two unprepared members of the audience are chosen to get a peek under the robe and see there is NO place to hide a key.

The illusion continues with Maria and her blushing audience members as her asstistant is cut in half and restored to her original beauty. Magic, it's not just for kids anymore.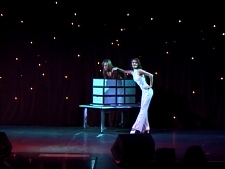 Ori-gasm
This illusion can be performed two ways sexy and sultry or fun and upbeat. We tend to like the sexy and sultry version ourselves. Maria walks onstage with twenty feet of gleaming red streamer that whips overhead gracefully. Her Venom Girl then enters a coffin shaped box. Luckily for the audience her costume doe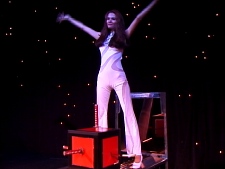 s not quite make it in with her! But we can't leave her nude so Maria places the red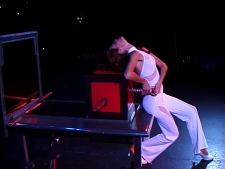 ribbon into the box with her.Maria starts to fold the casket in half. Then fold it again and again until he is in a cube only 12 inches square. But hey, this is Venom. Their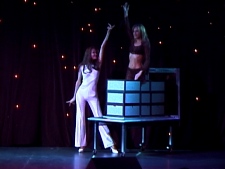 audiences demand more and Maria delivers by slicing through the box several times with swords leaving the audience astonished. The swords are removed and the box unfolded to reveal her assistant wrapped up in only the lustrous red ribbon. It doesn't get any hotter than this.
Botania
Eye popping excitement on a magic trick that once was a hit only at children's parties. Maria' places an empty cylinder on a table. She then notices her assistant has worn the wrong top. Maria informs her of this. Then front of you and the world her not-so-shy assistant removes her top. But as fate would have it Maria makes flowers appear from the hollow cylinder in just the right place covering her bare assistant just as she turns around. This ends up being just another Venom tease.


Wraparound

Imagine, Its your sales meeting, its your corporate function, its your national convention and It's your show. You need an ending that the company will never forget and hey, you entitled to a little fun too. After all you're the boss why not be in the final magic trick. Maria gets wrapped up in a large curtain as it un-wraps you appear in her place. Seconds later, Maria magically reappears at the back of the audience.

Alternate CEO Appearance

This illusion works great when stage requirements for a Wraparound are limited and you still want to make your CEO or Man of the Hour magically appear. A tall cabinet is rolled out on stage with Maria inside shaking her uh...assets, then steps out to lower a shade. The design on the shade is you! The shade is lifted and you have instantly appeared inside.

Dance Numbers

The show would not be complete without the Venom girls. They are accomplished dancers and it shows as they perform dance numbers throughout the show.